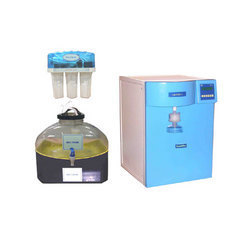 Product Description
Ultra Pure Water
Ultra Pure Water is mostly used in filtration of water for chemicals, bacteria, dust, impurities. We hold specialization in supplying an array of Ultra Pure Water is mostly used to get the accurate removal of all dissolved chemicals in water in a very fast mode application. These are highly acclaimed in the market for important features like high efficiency, sturdy structure, durable service life and optimum reliability. This is one the most convenient and cost competitive Ultra Pure Water to enhance the safety we provide them with premium quality standard material.
Model: ICS-BIO AGE Direct Ultra
Lab Pure-Series Model:-Direct Ultra
Micro controller based alphanumeric display with feather touch buttons water purification system indigenously manufactured with imported membranes and other raw material with Pre- filtration Module .
Model: Direct Ultra
Feed Water

(From Potable Tap Water- Type-IV)

Water Output: 0..5 to 1 Liter

Type-I

Total Chlorine greater than 2ppm, Feed Water Conductivity up to 1500µS/cm and pressure 0.5 Kg to1.5Kg
Ionic Rejection>95%,Silicate Rejection>99.9%,Bacterial Count <1CFU/ML, Endotoxin/Pyrogens free,Water Resistivity:18.2 Mega Ohm.Cm, Conductivity: 0.1 to 0.05micro S/cm T.O.C. <10PPB.
Other Products in 'Lab Equipments' category
"We are dealing all the local areas of South India"
Get in touch with us