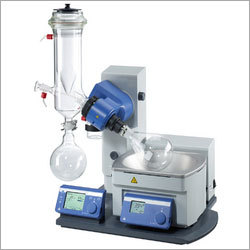 Product Description
Rotary Evaporator
Our range of Rotary Evaporator is recognized for its diagonal glass condenser used for standard distillations. Rotary Evaporator comprises of vertical glass condenser for distillation of solvents with higher boiling points. These evaporators are available in different grades as per the requirement of the clients. This evaporator mainly used in vacuum distillation of solvent at high temperature and in low temperature as well. Our Rotary Evaporator is being fitted with non-sparking motor which reduces the risk of fire at variable speeds for variety of uses (90-240 rpm).
WE MAINLY DEAL IN SOUTH INDIA

"We are dealing all the local areas of South India"
Get in touch with us