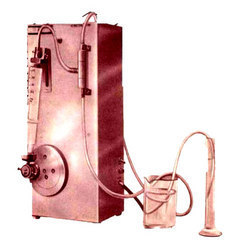 Product Description
Pipetter-Automatic Variable
Pipetter-Automatic Variable is mostly used hospitals, agricultural, soil testing, fertilizer, pharmaceutical, geological, chemical and research laboratories. We hold specialization in exporting an array of Pipetter-Automatic Variable is mostly used to get the accurate liquid volume from 1 ml to 50 ml (adjustable) in a very fast mode application. These are highly acclaimed in the market for important features like high efficiency, user affability, sturdy structure, durable service life and resistance to corrosion. This is one the most convenient and cost competitive Pipetter-Automatic Variable to enhance the safety we provide them with premium quality standard material.
Description
The machine is used to get the accurate liquid volume from 1 ml to 50 ml (adjustable) in a very fast mode. Approx. 15 to 20 samples of liquid volume can be collected in one minute with an accuracy of 0.1 cc. The maximum pippeting capacity per stroke with glass syringe is 50 ml. The approx. weight of the machine is 14 kg and the power consumption is 100 Watts to work on 220/230 Volts AC/DC supply.
Operation
The required quantity of liquid can be obtained from 0-50 ml by putting the plunger in the concerned hole provided in the rotor. There are total five holes in the rotor to get the volume of liquid from 0–10 ml, 10–20 ml, 20-30 ml, 30-40 ml, and 40-50 ml. The accurate volume of liquid sample will be obtained by adjusting the fine adjustment knob
Working Principle
The repeated measuring and delivering mechanisms for transferring liquid volume, adjustable with respect to volume of delivery from 0 to 50 ml (graduated in each ml). The operating elements consists of glass syringe of Lure type and standard inlet and outlet rubber tubes, a motor driven mechanism which moves plunger of the syringe, a unidirectional valve assembly and an adjusting device to determine the length of the stroke of the plunger and thus the set volume to be delivered.
Technical Data
Samples pipetted per minute : 16/10
Maximum Pipetting capacity per stroke :Glass pipette of 50 ml or cc
Accuracy : 0.1 cc
Weight : 14 kg approx.
Power consumption : 100 watts
Supply : 220/230 V, AC, 50 Hz, single phase
The unit is complete with syringe duly graduated upto 50 ml, Inlet and outlet rubber tubes and a plunger.
Other Products in 'Lab Equipments' category
"We are dealing all the local areas of South India"
Get in touch with us