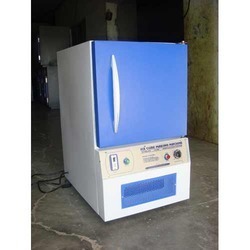 Product Description
ICS-Biotech Ice Cube Making Machine ICS-Biotech Ice Cube Making Machine Item code:HL-2071 1. Body made of M. S. And stainless steel chamber the units are fitted with hermetically seated compressor for high capacity cooling. 2. All units are controlled through a highly sensitive temperature control unit. 3. Double walled storage bin are insulated with puff for minimal thermal losses. 4. Fully insulated and sealed ice production system : no loss of cooling. 5. No use of pumps : No disturbance, repair, wear. 6. No heating grids : low power consumption, no source of deficiencies. 7. To work in 220/230 v A. C. Supply.
Other Products in 'Microbiology - Biotechnology - Genetics' category
"We are dealing all the local areas of South India"
Get in touch with us