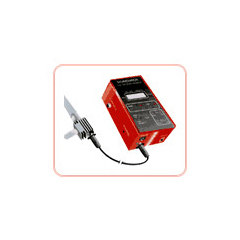 Product Description
FLUE GAS ANALYSER
FEM consists of 3 types of portable microprocessor-based fuel efficiency monitors. They are as cited below: FEM-1 measures %O2 and C. FEM-2 measures O2, °C and CO. FEM-5 measures O2°C, CO, SO2, NO & NO2. The microprocessor calculates values of percentage combustion efficiency i.e. net & gross, percentage carbon dioxide and percentage excess air for types of fuel. The microprocessor and architecture ensures the simplicity in use, trouble-free performances, cost-effectiveness and reliability.
The analysis data is displayed on a 16 x 2 LC alphanumeric display. Series FEM incorporates microprocessor key controls that are fully menu driven. Stored data can be viewed or downloaded to a computer or can also be printed out by an external printer. A built-in pump draws flue gas through the probe. The instrument works on an in-built rechargeable battery and recharged on 220 VAC mains supply.
"We are dealing all the local areas of South India"
Get in touch with us