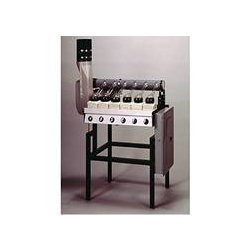 Product Description
Digestion Unit Ics Esteem
Digestion Unit Ics Esteem is widely appreciated for its consistent operations and high performance. We offer this Digestion Unit Ics Esteem in various forms as per client requirements with specified measures. Our Digestion Unit Ics Esteem range is safely stored in our state-of-the-art warehousing unit in order to avoid degradation of their quality. These are manufactured using quality measures. Digestion Unit Ics Esteem is exported at affordable price as per standards.
Digestion Kjeldahl-ICS-Esteem
Esteem kjeldahl digestion units are designed for laboratories that require separate digestion stations. Six-place digestion units provide fume-free operation by drawing fumes through the manifold with either a blower exhaust or a water ejector system. The two-place digestion unit offers the same rugged construction as larger kjeldahl models, plus it is compact and may be placed inside a fume hood.

Made of M. S. Sheet duly powder coated with six individually controlled recesses containing flexible and elastic heating elements capable of taking flasks from 18 to 100ml. The built in energy regulators is controlling temperature individually upto 250°c. The unit is fitted with clamps and arms either to accept a glass fume tube or lead coated fume tubes. Total power 600 watt on 230 volt main supply.

The equipment has a very heavy casted top made of high grade stainless steel block of grade ss. 304 with room for heating 40 digestion tubes made of highly energy efficient borosilicate glass of 75 ml each. The suitable value heating element are made of high grade a-i non magnetic wire. These heaters are strategically placed throughout the chamber for uniform temperature distribution through the chamber. The outer casing of the equipment id made of thick pcrc sheet duly pre treated with primers for rust proofing and painted with attractive stove enamel paint or powder coated. The 75mm gap between the two walls is filled with mineral wool to have minimal thermal loss and maximum energy efficiency.


Temperature range:

50°c to 350°c


Temperature control

Temperature is controlled through electronic solid state temperature controller cum indicator or micro processor based digital temperature controller cum indicator


Temperature sensitivity

The temperature is controlled with an efficiency of + 2% (set value).


Control panel

The control panel is fitted at the side of the equipment, it comprises of mains on/off switch, neon power indicator light, heater on/off indicator light and digital temperature controller cum indicator.
Other Products in 'Lab Equipments' category
"We are dealing all the local areas of South India"
Get in touch with us