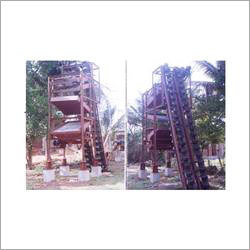 Product Description
Bio-fertilizers Plant
This Bio-fertilizers Plant achieved when the desired micro-organism could be mass multiplied in larger volume in a short time with adequate nutrition and cultural environment. The Biofertilizers Plant has presence of Phosphorous helps in high yielding and in root formation and plant growth. Biofertilizers Plant performs the associative symbiotic relation with the graminaceous plants. It is essential to select the cultural medium for the strain, appropriate process control, temperature, agitation, pH and aeration. These Biofertilizers Plant are used for crops like sugarcane, maize, wheat, rice, barley, all vegetable and fruit.
WE MAINLY DEAL IN SOUTH INDIA

Our Biofertilizer plant consists of:
Fermentor - made of SS with agitator, aeration facility, temperature control and suitable ports for broth inlet and outlet.
Autoclave- Horizontal
Autoclave- vertical
Hot air oven with SS trays
BOD incubator
Rotary shaker
Laminar air flow chamber
Ribbon mixer
Distilled water still
Boiler / Steam generator
Instruments:
PH meter
Colony Counter
Binocular Microscope
Weighing Balance
Refrigerator
General Laboratory Glassware
"We are dealing all the local areas of South India"
Get in touch with us